Tag Archives:
christmas crafts
This black and white image, Box Pattern, was donated by the artist, Chris Gunn. Click to read more about Chris.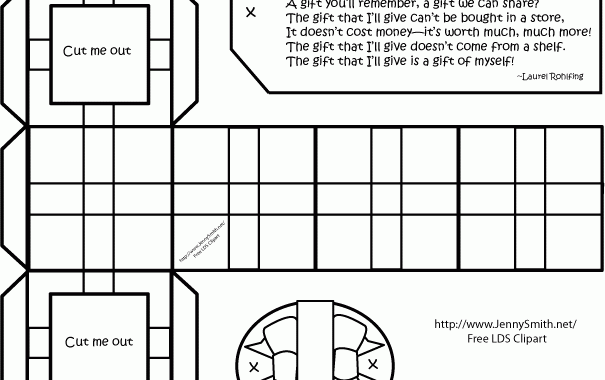 This is a sharing time idea based loosely on the December 1990 Friend Article Give Yourself Away".
Preparation
Print or photocopy the box pattern onto cardstock.
Before your sharing time activity, take pictures with a digital camera of the children in your class. (You may want to begin taking pictures several weeks ahead to ensure that children who may miss a few days during the holidays can receive an ornament.
Print out two pictures of each child, touching each other, either side by side or with one upside down. Leave a little space on the end of each picture to act as a base. (You're going to fold these pictures in the shape of a tent or wedge.) The photos must be no larger than 2 inches tall by 2 inches wide (50 cm x 50 cm). See diagram below:
During Sharing Time
Cut out the pieces, including the windows of the gift box.
Using a hole punch or pencil, make holes on the 'x's located on the bow piece (circular) and the gift tag.
Fold the paper into a box shape, leaving one side open to insert the pictures. Fasten the flaps down with transparent tape or glue.
Insert the pictures of the child into the box so that the picture can be seen throught the windows, attaching it with tape or glue.
Seal the last flap of the box with glue or transparent tape.
Fold the bow along the straight lines to make a wedge. Tape or glue it to the box.
Using a piece of yarn, string, or ribbon, tie the gift tag to the bow.
Finished box
+++++++++++++++++++++++++++++++++++
One project per page, black and white. A full color version of this file is available by clicking the ornament link below.
+++++++++++++++++++++++++++++
The poem on the tag:
What gift can I give you for Christmas this year?
What gift can I give to bring love and good cheer?
What gift can I give you to tell you I care,
A gift you'll remember, a gift we can share?
The gift that I'll give can't be bought in a store,
It doesn't cost money–it's worth much, much more!
The gift that I'll give doesn't come from a shelf.
The gift that I'll give is a gift of myself!
~Laura Rolfing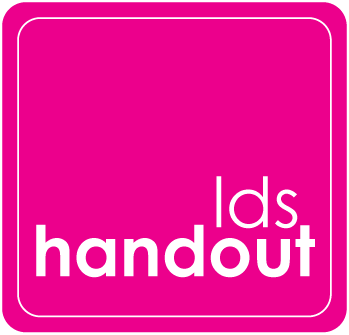 A million years ago in Riverton, Utah, Kelly P. taught a class on how to make and assemble the Super Fast and Easy Family Home Evening Lesson Book Craft during an Enrichment Meeting I attended. She based her craft on a book she had used for years with her boys. It contains 30 ready-made FHE lessons with objects–perfect for those busy days when planning a family night lesson seems like too much.
Here's the concept: the children in your family sort through a bag of small, numbered objects and choose one that appeals to them. The number on each item corresponds with a story in a folder with a scripture story and scripture references. All you have to do is read the story/stories! Easy!
I (Jenny Smith) have *heavily* modified the text of the original document to include text from the Gospel Art Picture Kit wherever possible, and I have also added simple quotes from scriptures, because I believe even the smallest children should hear scripture language. I also added a few questions that could stimulate discussion after each lesson.
How to make the Super Fast and Easy Family Home Evening Lesson Book Craft
Note: These books are MUCH easier and far less expensive to assemble if you get a group together. Seems to me our books cost around $12, but that was a long time ago.
YOU WILL NEED:
1 3-prong folder or binder
1 gallon size ziploc bag (to hold the items)
30 small ziploc bags
30 stick-on labels numbered 1-30
1 each of the items listed below in Step One
STEP ONE:
Choose from the list of items below ones you can readily find at craft stores and the like. If you can't find something, consider laminating a picture or photograph of the item.
1. Novelty Compass (we used toy compasses from an army birthday set)
2. Birthday Candle
3. Pencil
4. Dove-shaped wedding favor
5. Sacrament cup
6. Baby in basket (hardest to find; she used a baby from Mardi Gras bakery kits and a small doll's hat as a basket)
7. Plastic Animal
8. Clipart image of Joseph and coat of many colors
9. Washcloth
10. Gold Plastic Coin
11. Clipart image of Whale
12. Small Plastic Lion
13. Paper Money
14. Clear glass stone
15. Pumpkin seeds
16. Sword-shaped plastic pick
17. Clipart image of baptism
18. Clipart image of missionary tag
19. Plastic fish
20. A few pieces of plastic doll hair
21. Ruler
22. Clipart image of Tree
23. Plastic Gold ring
24. Brown felt or fake leather
25. Rock
26. Small bunch of plastic grapes
27. Sun-shaped wood cut out
28. Apple-shaped wood cut out
29. Iron Rod (she cut a set of small wind chimes apart; you could paint a small dowel rod silver or black)
30. Clipart image of pail
STEP 2:
If you were able to find everything, all you need to do is to print out stick-on labels for each of the 30 items. We placed each item in a Ziploc bag to make labeling easier. Then print out the attached booklet, and you're done!
If you couldn't find something, download the booklet in TXT, ODT, or DOC format and delete out the numbered lessons you couldn't find. Then re-number your lessons and make labels. Print your modified version and enjoy.